Firebolt - IRO Mark V
By iKrystin on 09/06/2010.
Bike tags: Fixed gear | 50cm | Boulder | bullhorns | Colorado | fixed | fixed gear | fixie | IRO | red | white |
Click to view other photos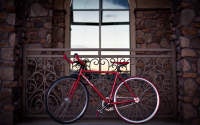 Nashbar Bullhorns / IRO 100mm Stem

IRO Mark V Fork / FSA Orbit DL Headset

IRO Cold Fusion Front Wheel Silver / Fyxation Session 700x28c White-Black Tire

IRO Cold Fusion Rear Wheel Silver / Fyxation Session 700x28c White-BlackTire

Nashbar GR2 White Saddle (Previously = Nashbar R2 Red) / IRO Seatpost

MKS GR-9 with Pake Straps Red / KMC 3/32 Silver Track Chain

Tektro Quartz R740 / Bontrager Race Lite Aero Lever
My first track bike, originally owned and built up by my brother who now has an IRO Jamie Roy. Love love love this bike.
Slowly making my own modifications while simultaneously wishing that I had infinite amounts of money to spend on bikes.