Trek OCLV 5000 Junkyard
By donalphonso on 08/31/2010.
Bike tags: Road bike | 3ttt | 5000 | campagnolo | fir | junk | oclv | Trek | ultegra |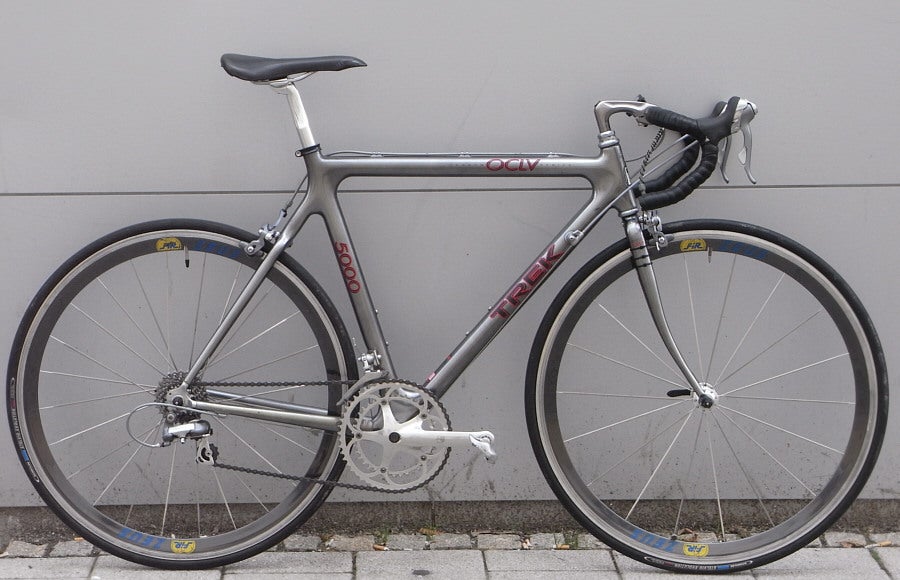 Click to view other photos

3ttt Forma SL / 3ttt 2002

FIR Zeus / Schwalbe Stelvio

FIR Zeus / Schwalbe Stelvio

Campagnolo Chorus mid 90ies / Shimano

Selle Italia Mythos / Shogun Pro Race
This one was bought to have a cheap winter bike, and to save it from becoming a fixie. Some guys wanted to have the FIRs.
The ad said the previous owner brought the frame to Germany and drove it just a couple of miles during the last years. I believe him, because the bike was pure junk. The gear change, the brakes, the chain, the levers, the freewheel, everything has been driven to complete malfunction. The upper bearing in the headset was broken, and the stem seems to be welded to the fork. The rear wheel comes with a freewheel you would expect on a 99-$-bike from WalMart. It must have been suicidal to drive this bike. I took off all the tria stuff, replaced the "vintage" golden arrow crap cranks with an old Campagnolo Chorus, and after two days of polishing, greasing and adjusting it was nearly back to the former glory of 1996. Not too bad.
However, I have to say that it doesn't even come close to the european and italian bikes I ride. No soul, no sprezzatura. It won't rust, so it will do the job, but maybe I'll take off the cranks again and replace them with some carbon junk from Trigon. This thing doesn't deserve Campagnolo!