BSA Single
By Jason Kelly on 08/24/2010.
Bike tags: Single speed | Birmingham Small Arms | black & white | BSA Single | vintage
Click to view other photos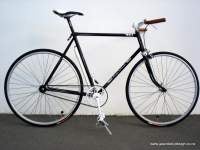 Original Bars up side down Moustache/Bullhorn styles with Charge synthetic leather tape. Stem Kore 110mm

Cheapy Alex Set for now 700c 28mm Black Tire

Cheapy Alex Set for now 700c 28mm Black Tire

Saddle EKS Mission, Seat Post BBB

Pedals off an Old Bottecchia still to do up with Soma Toe Clips, BMX Chain as teeth worn on Chain ring

Original Brake Lever, Front Brake old school Vanguard

46/16...mmm Hills are hard!
A nice ride, wanted her to have a old school/new school look hence the B&W colouring with a cross over with upside down bullhorn style bars, new seat but keeping alot of original parts and going fat on the rims and tyres, she has an old school pump.
The leather(synthetic)tape is real nice, you wouldn't know it wasn't the real deal, cheap as chips if she gets ripped or starts to look manky in the summer sweats.
As the Chainring is worn having a new one laser cut so I don't have to worry about it jumping off down the track.
Mint!