HVZ Kvant '87
By Vincel Voico on 08/15/2010.
Bike tags: Fixed gear | Awesome | Brooks | HVZ | Kvant '87 | nitto | njs | sale | sugino | track bike | ussr | vintage | XB3 |
Click to view other photos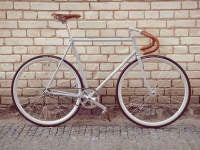 Brooks / No name build in
This bike is built on the track frame and it comes from USSR of the 80ies. I got this remarkable frame by chance, but I had to recolor and rename it:) The name was 'Kvant', nowadays it's called 'Kvant Awesome'. Now you have a great chance to buy this track bicycle!!!
If you are interested, please contact me [email protected]