1973 Peugeot PR-10E Randonneur 'Henri'
By jrsFTC on 08/09/2010.
Bike tags: Road bike | bell | duopar | edco | fenders | Honjo | Honjo Koken | huret | Ideale | impero | Mafac | mavic | peugeot | rando | randonneur | Retrofriction | shellac | silca | silca impero | simplex | stronglight |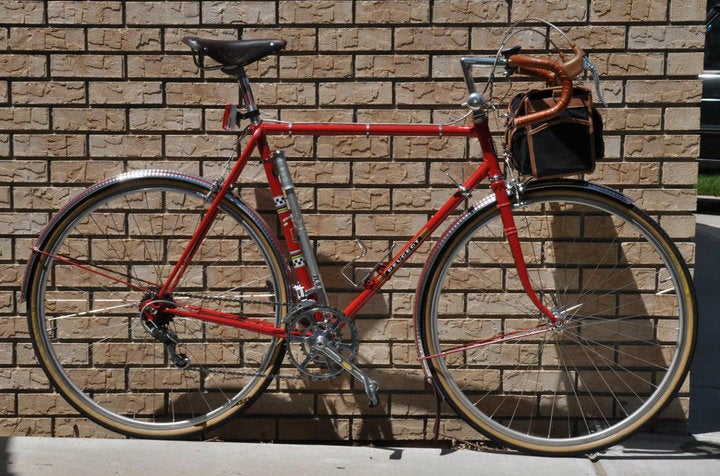 Click to view other photos

Peugeot PR-10E, 58 cm, 1973

Belleri BF, Nitto Technomic, Tressorex white cotton tape with six coats of orange shellac

Noname French threaded headset

Mavic 501, Weinmann rim, Panaracer Pasela TourGuard 32mm

Mavic 501, Weinmann rim, Panaracer Pasela TourGuard 32mm

Stronglight 49D, Stronglight French threaded

Ideale 80 brown, Stronglight fluted

Shimano Ultegra, SRAM PC870

Simplex Retrofriction, EDCO (Simplex L.J) front, Huret DuoPar Eco rear

MAFAC "Racer", MAFAC drilled levers with gum hoods

46/28 chainrings, Sachs LY95 7-speed freewheel 12-24
My second attempt at a randonneur. The Follis frame was about an inch too small. This one fits just right. The "super compact" gearing allows my aged knees to pedal up & over steep hills in spite of this bike's heft: 26.5 lbs "dry" and 36 lbs fully loaded w/ water, snacks, cold weather gear, tools, spare tubes, etc.
I bought this frame from the original owner. He had it powder coated red and applied new repro decals. I painted the stays and flutes of the Honjo Koken hammered aluminum fenders to match the frame.
It's a terrific bike to ride: it's smooth, and seems to agree with my pedaling style.