Bianchi X4 Specialissima 1988 Featured Bike!
on 08/3/2011
By evrellio on 08/09/2010.
Bike tags: Road bike | Bianchi | campagnolo | Limited Edition | nuevo record | road | x4 |
Click to view other photos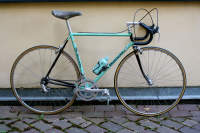 Bianchi X4 Specialissima / SLX / Campa dropouts / 55cm / 1988 (could possibly be 1989)

Mavic / Campa NR / Vittoria

Mavic / Campa NR / Vittoria
From what I can find on the web, this is a limited edition Reparto Corse "X4 Specialissima" frame from 1988. It has SLX tubing and an almost complete Campa NR group. The original is said to have been equipped with C-Record and I don't know the story about how this one turned out wit NR. Anyway it's a beautiful bike and a dream to ride.