GOrilla Zengang
By admiral on 08/05/2010.
Bike tags: Fixed gear | fixed gear | Gorilla | njs | phil wood
Click to view other photos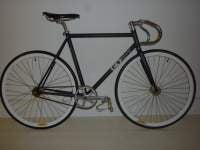 Nitto 123 / Nitto UI-5gx 80mm

Gorilla Fork / Campag Record

Phil Wood 36h radial laced to Velocity Deep V DT Spokes/ Continental Gatorskins

Phil wood 36h Double crossed laced to Velocity Deep V/ Continental Gatorskin

Brooks B15 Swallow titanium/ Velo Orange

MKS RX-1 MKS Alpha fit straps MKS cage / IZUMI V-Chain Super Tough Track Gold and Black
Been collecting parts for a quite afew months now, finally got her on the road. Super light and fast Loving it...Debating whether to put brakes on or not...