Indi 500 Fixie convert
By shizmo on 07/21/2010.
Bike tags: Fixed gear | 700C | alex g6000 | cinelli | fixed | fixie | indi 500 | indi500 |
Click to view other photos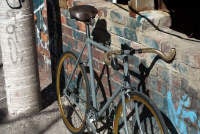 Champion Bull Horns/Reverse 30degree stem

Old School Leather Spring Beast
My First fixie out of bits an pieces i found.... I know the seat is out of place but it feels like my ass is floating on clouds. I like that feeling it gives me tingles. What of it.