Albertine
By SEXXXTREME on 05/05/2007.
Bike tags: Fixed gear | conversion | formula | mavic | MKS | nitto | sugino rd |
Click to view other photos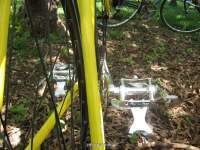 Old no-name 55 or 56 cm Japanese or Taiwanese frame I picked up for 5 bucks at a sale.

Stock Stem, Nitto B123 Bars
Hit a car on Houston St. RIP. Currently riding an IRO Angus with many of the same components, but no pictures yet because it doesn't look as fly as I want it to.