Bareknuckle Track
By mr_ko on 05/04/2007.
Bike tags: Track bike | 56cm | Bareknuckle | fixed gear | phil wood | putty green | sugino 75 | Track |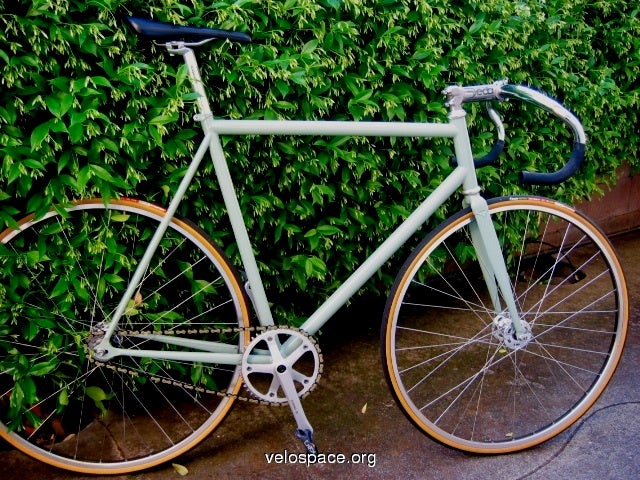 Click to view other photos

Bareknuckle 56cm Putty Green

Deda Velocita/Deda 120mm Soto grips

Bareknuckle/King Threadless

Fir SC-150/Phil Track High Flange SLR 32/3x Vittoria CX

Fir SC-150/Phil Track High Flange SLR Fixed/Fixed 32/3x Vittoria CX

Avocet Prototype (1 of 2) D/A seat post NJS

Look Keo Sprints/ Izumi Esh
This was intended to be my inexpensive build but I can't stay away from good components. My favorite parts on the bike are the Phil Wood Hubs with the 'SLR' option. It took him long enough! The Deda Velocita bars are beautiful as well. I was happy to find a steel track bar with 31.7 clamp diameter. The frame is fine. Looks good from a distance but one look at the welds, especially the BB area and you may think to yourself that it was done by a drunk Italian guy just before closing time. If I welded this bad, I wouldn't put my name on them either. The ride is nice though. Not to slack or quick. I don't know why they used a 1 1/8 headtube. That pretty much blew my chances at a full Nitto set up. Lame. Also lame is the cable stops for the rear brake. Seat clamp is slightly warped, leaving a small space between the post and the wall of the tube. All in all fun, good looking bike but the frame doesn't really deserve the parts I built it with.