Kilo Pistard
By crumbum on 06/30/2010.
Bike tags: Fixed gear | cane creek | Kilo | miche pistard | oppy quad gate | Primato | san marco | soma | surly | Thomson |
Click to view other photos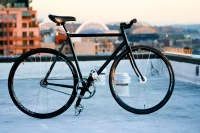 Bike Island Kilo/ 53 / 2009

Nitto b201 Black Ourys / Thomson MTB 70mm O deg

Stock / Cane Creek S2 Threadless

Miche Pistard / Miche Primato / Continental Ultra

Miche Pistard / Miche Primato / Continental Ultra

Sram Courier GXP / Sram External BB

Soma Okami / Thomson Elite Setback

Wellgo / Soma Oppy Quad Gate with Double Straps/ KMC

17t Surly cog / 48t Sram / Miche lockring
I was on the fence about getting a Kilo but I'm glad I did. So far it's been a great bang for my buck. The thing is pretty stiff and not to heavy with the Pistards(had DP18's but ditched them thankfully). Looking to upgrade to an elite seatpost and possibly omnium cranks in the near future. Hope you like it, please no trolls.
UPDATE
Went with SRAM S300s Couriers and couldn't be happier. The 48-17 ratio is nice up hills and can definitely bomb as well as skid. No longer need a brake now that I have my skids dialed in. My friends chipped in and got me a thomson elite setback for my bday and I'm very pleased with it. Bit the bullet and got nitto risers like everyone else but they're comfy, what can I say.