NJS Kiyo Miazawa with Suntour Superbe. Retired race bike.
By colnagogo on 06/20/2010.
Bike tags: Fixed gear | Track bike | NJS Kiyo Miazawa Suntour Superbe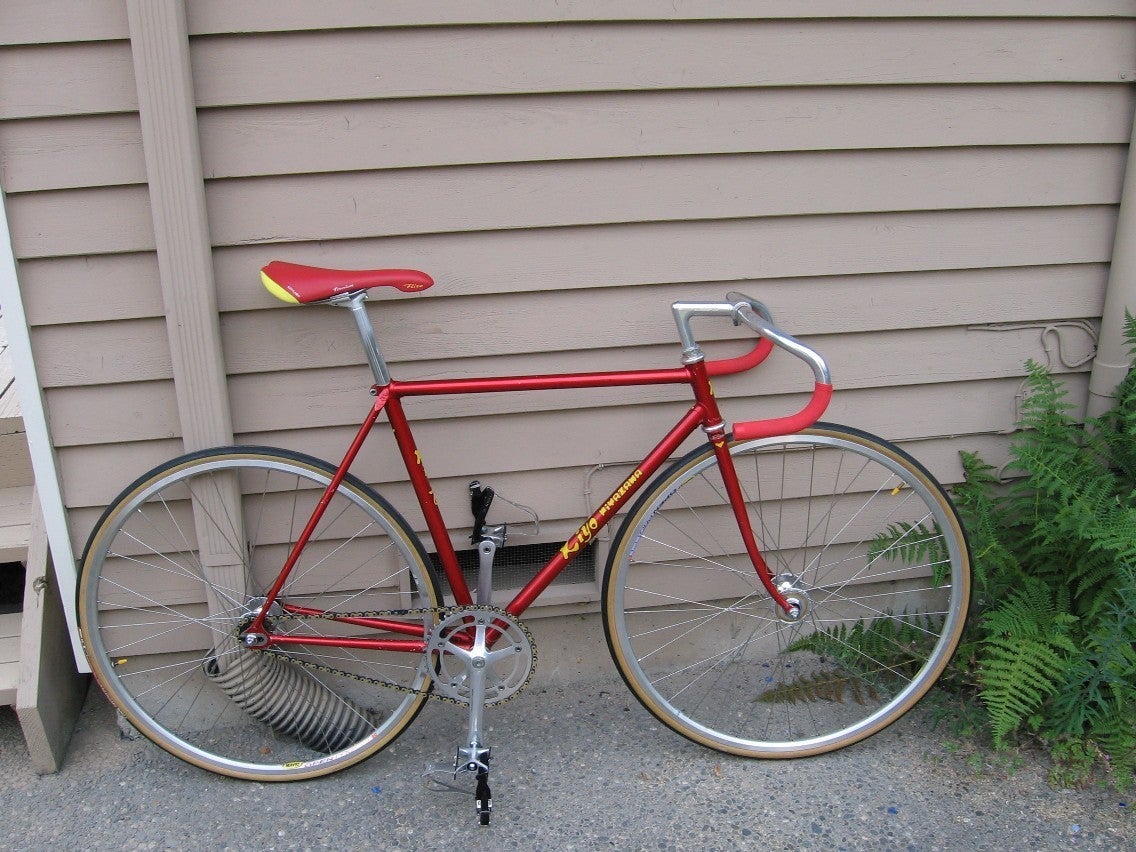 Click to view other photos

Kiyo Miazawa NJS Lugged Steel frame 52x52cm with Suntour Dropouts

Nitto 125AA shallow drop with Nitto Pearl Stem both NJS Soyo grips

Nagasawa "heart" fork crowns with Hatta Swan NJS headset

Suntour Superbe High Flange NJS with Mavic Open Pro rims non-NJS

Suntour Superbe High Flange NJS dual sided or flip flop hub with Open Pro rims

Selle Italia Flite with Suntour Superbe non-NJS seatpost

Suntour Superbe NJS with Izumi V "Super Toughness" chain

Have installed Dia Compe kirin style clamping brake not drilled

Suntour Superbe NJS 49 or 47x14,15,16 or 17 cogs with dual sided 18 non-NJS. 5 Gold top tube protector
This is a "retired" professional Keirin race frame with parts that were actually raced in the Japanese Keirin circuit. It has some Japanese Kanji characters stamped and painted into the bottom bracket that show the name of the racer who owned it. His name is Nakanishi Ryutarou. My Japanese friend looked him up on the internet and says that he is listed as a Sensei or Master.
I built it up with mostly NJS parts that are the best that I could find. Many of the parts were ordered from Kirinblogspot in Japan and are taken off of retired race bikes.
Very fun to ride. It is also very fast. The frame is stiff and accelerates quickly when you pedal. Similar in feel to the Colnago Master…awesome.