Fausto Coppi 56cm Pista
By lrgkevin on 06/06/2010.
Bike tags: Track bike | 56cm | campagnolo | Coppi | Fausto | fausto coppi | maroon | Phil | phil wood | Pista | shamal | Track | wood |
Click to view other photos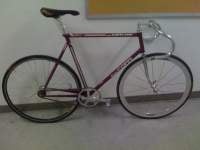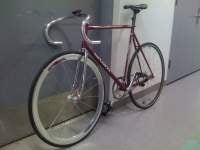 random chrome / random chrome

Campagnolo / Shamal / Continental Sprinter

Phil Wood 32h chrome / Mavic 32 open pro / Continental Ultra Gator Skin

Campagnolo Record / Campagnolo Record
I don't know too much about this frame. All I know is it came from Italy and Fausto Coppi is a pretty famous racer. Please let me know if anyone knows anymore information on this frame.