Bridgestone Anchor NJS Purple'd out.
By AlucardBelmont on 05/10/2010.
Bike tags: Track bike | anchor bridgesotne 54.5cm | cd | Mavic open 4 | njs | philwood | purple | Sugino 75 purple |
Click to view other photos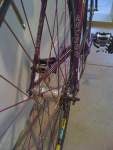 Bridgestone Anchor NJS 54.5 - color change paintjob

Nitto 123aa pink, 39cm, Nitto Jaguar 110mm

HAtta swan deluxe , bridgestone fork

Mavic open 4 cd NOS , Phil wood High Flange 32h, double butted ionized purple spokes

Mavic open 4 cd NOS, Phil wood High Flange 32h fixed/fixed/ All city cnc stainless steel cog.

Sugino 75 anodized cranks, Sugino zen 49t chainring, Sugino 75 superlap bottom bracket

Thompson elite 27.0 , Selle italia flite ti

MKS custon nuevo , Toshi straps, KMC kool chain.
*i need a better camera. these pics dont do justice.*
I love This bike, fits me perfect, the wheelset rides amazing, really quiet, picks up speed really quick
the paintjob on this bike changes from purple to wine to gold sparkles depending on the light. also the spokes do the same.
im not trying to keep this bike on a garage , this is my daily ride and im planning to beat the hell out of it. this bike will grow with me over the years.
love it or hate i