Erba StreetTrack
By FDave on 03/30/2006.
Bike tags: Track bike | erba | formula | hatta | hkk vertex | keirin | shimano | specialized | sugino | Thomson | Velocity |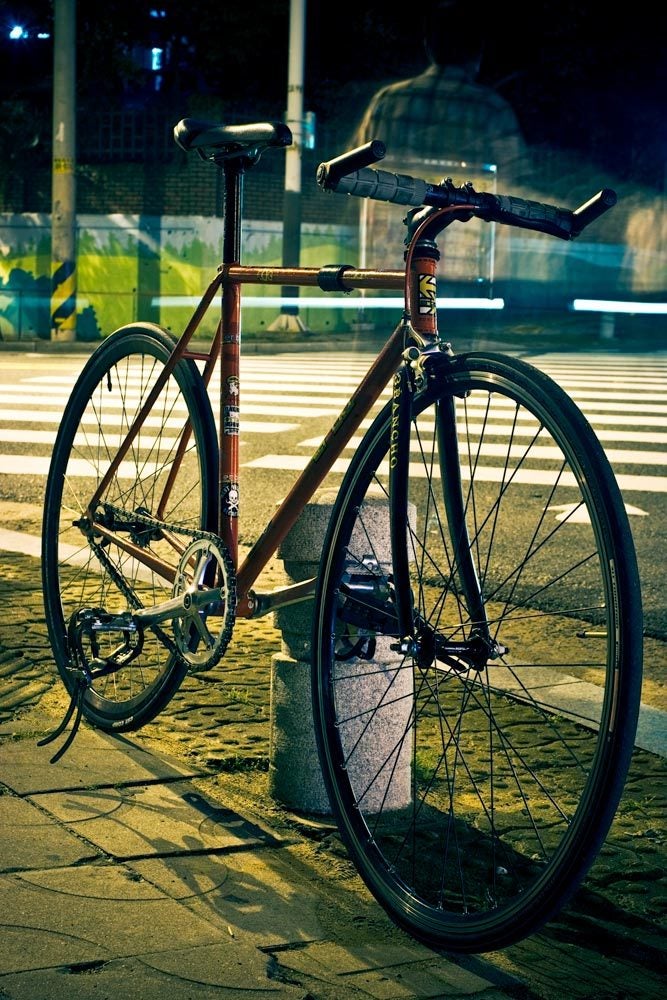 Click to view other photos

Usually chopped flat bars will bar ends, in this shot flip 'n' chop bullhorns, random Bontrager stem

Microtec carbon fork, 1" threadless steerer, Cane Creek S2 headset

Shimano 105/Open Pro/Tufo C-Jet 700x19

Formula/Deep V/Specialized All Condition Pro

Shimano Dura Ace 165mm track cranks, Sugino 75 BB 108mm spindle

Performance Forte Pro SLX saddle, Thomson Elite post

SR SP-11 pedals, Soma double straps (ie rubberbands), MKS steel clips, custom toe strap "doubler"

18t Phil Wood in back, 47t Salsa in front, MKS chain tugs
Erba Writeup Get!
This is a very special bike, both to me and generally as far as track bikes are concerned. If this is the best bike I ever own, I will have been blessed.
The frameset originates in Kyoto, where "Cicli Erba" once stood as a small frame shop building both Keirin and road bikes. The proprietor and builder, a Mr Ogino, did all of the construction and design work himself. While the shop no longer exists and Mr Ogino has moved on to doing steel sculptures, one pro Keirin rider still races on an Erba.
As far as I can tell, Erba was never high volume by any measure. Information on Erba in Japanese is very, very thin, and in English is almost nonexistent. From what I gather, though, there aren't a huge number of these frames out there, and this may be one of the only Erbas (singular?) in the US. If there are others, I certainly have not been able to unearth any record of them. This particular frame was custom built for an instructor at a Keirin racing school in Japan, who I assume rode it for a while and eventually sold it to a bike shop.
The frame came to me by way of a good friend in Tokyo, who found it at the bike shop Fukui. He picked it up for me and brought it to Chicago along with a few other frames earlier this year (2006). From there, it was shipped to me down here in Missouri, where I built it up and now ride it like mad every single day.
In its former life, the frame certainly did see a lot of use. Half the paint is missing from the drive-side chainstay, and a good bit from the bottom bracket shell as well. An expected amount of paint chips appear scattered about the rest of the bike. Overall, though, it's still in very good condition, and appears structurally unscathed. I may repaint it eventually, but not until I can round up a set of replacement decals. No dents anywhere in the frame, if it was ever crashed hard, I can find no evidence of it.
The build is a little unconventional, but highly functional. It retains the original Hatta Swan headset and Sugino 75 bottom bracket, albeit with a different spindle in the BB to dial in the chainline with my current cranks. The component that probably gets the most attention is my handlebars, which again are unconventional but highly functional. They are chopped True Temper flat bars with Oury grips and short Bontrager bar ends, yielding a setup analogous to 36cm bullhorns.
Every little bit by which I dial in the setup makes the ride all the sweeter, which says a lot given that this bike fit me better than any other bike ever has from the start. I get the feeling the original owner had essentially the same measurements as me. I think the only way the fit could be any better would be to have something custom built for me, and that won't be happening any time soon. While these things always continue to evolve, the build is pretty much stable now, the only planned upgrades still to go being a new saddle and a front wheel built to the same specs as the rear. The main pic shows the current build, and the others show the bike just short of the most recent upgrades.
Finally, I would like to note that this bike could not have existed at all without the help of several friends and a couple good bike shops. I really appreciate what they did to make this bike a reality. Yohei, Naz, Josh, Cyclex, Klunk, and Walt's. Rock on.
October 2007 Update!
It's been a while since I updated this and the bike has gone through some changes. If anything, the bike has become even more of a use-oriented build. It has a proper track crank on it (hell yes to Dura Ace!) and the original fork has been swapped out for the carbon fork and headset from my singlespeed, which I never ride any more. The carbon fork isn't as pretty as the original, but it feels nicer and offers better handling for crappy Texas roads. It also means I can run a brake when I feel like it. I've gone back to clips and straps, using a self-customized system for double straps that is proving to be very nice. See this page for more info. The saddle cover was torn up, so I ripped it off and now just run the saddle stripped. Little by little, I am making this bike very dialed in. It's the nicest thing I've ever ridden and it only keeps getting better as I tweak the build.