Bridgestone - Take #2
By DeliKa1zer on 05/01/2010.
Bike tags: Fixed gear | 52cm | bridgestone | fixed gear | lugged steel
Click to view other photos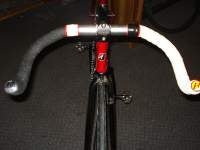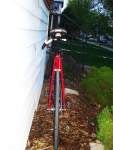 Brisgestone / 52cm / 1987

Nitto RB-021 / Coda 100mm

Rigida / Campagnolo Record / Gatorskin 23c

Mavic CXP22 / Suzue / Gatorskin 28c
Can you guess the before and after pics? I crunched my crotch into my top tube avoiding my coworker on a random turn; my emergency maneuvers proved fruitless. Got a brake the next day...avoided being hospitalized the next week due to the brake...lesson learned.
One's balls always leave their mark.