Cinelli MASH
By dresearch on 04/24/2010.
Bike tags: Fixed gear | 51cm | aloha fixed | Chub | CHUB Hub | cinelli | cinelli mash | clipless | concor | EAI | flamme rouge | gr-9 | gr9 | gray | h plus son | H+son | hawaii | HED 3 | hed3 | Izumi | jet | jet 6 | m540 | mash | MKS | nitto | Omnium | randonneur | rb-021 | selle italia turbo | selle san marco | shimano | SRAM | sugino | sugino zen | thompson | trispoke | truvativ | Turbo | vittoria | zaffiro | Zen |
Click to view other photos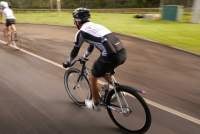 Cinelli MASH / 51cm / 2009

Nitto RB-021 | B123CrMo / Thomson Elite

HED Jet 6 Flamme Rouge | HED3 | H+ Son Formation Face / Vittoria Zaffiro Pro

H+ Son Formation Face / CHUB hub / Vittoria Randonneur

SRAM Omnium 165mm / Truvativ GXP Team

Selle San Marco Concor / Thomson Elite seat post and clamp

Shimano M540 clipless | MKS GR-9 / MKS Alpha Fit double straps | Izumi Model-V Super

EAI Deluxe 18T / Sugino Zen 53T / Shimano Dura Ace lockring
4/10: Second build to replace my old Iro Mark V. Some of the parts were carried over from my previous build. Ended up selling my 170mm black Omnium cranks and obtained 165's to help with the toe-overlap on this frame and improve my cadence efficiency. The Cinelli frame is definitely a step up from the Iro and the aggressive geometry is perfect.
5/10: Been riding alot farther and harder with this frame, so much fun and so easy to ride. Ended up getting a shorter 100mm Thomson stem with same 10 degree drop from the 120mm I was running and the comfort level has increased significantly as I was stretching too far out while using the horns. Purchased a set of H Plus Sons so my bike can look like every other Cinelli MASH frame on VS. Form and function; the size of the formation face combined with the decreased spoke length seems to have improved pickup ever so slightly, the wheels feel great.
10/10: It's been a while since last updating this build. Decided to match the gearing to my Lo Pro build as I was maxing out the previous 47x17 setup too often after running the higher gearing on my other bike. Also, just completed the 100 mile Honolulu Century Ride last weekend with this frame, I just love killing roadies on hills all day.
1/11: Leaving to Japan soon, and bringing this bike with me. The Lo Pro will stay back in Hawaii while I move on to Japan for a new job. Been riding clipless for a couple months now, I don't think I can ever go back to riding with clips and straps.. Even if it's just around the block.
4/11: Mash finally arrived in Japan, build it back up today and rode it around. Feels so great to be reunited after a 2 month wait... Now to pray for the radiation levels in the air remain low so I can continue riding safely outside. Aloha from Japan.