Fuji Super Tourer Conversion
By ids on 04/21/2010.
Bike tags: Fixed gear | conversion | dura ace | fir | fixed | Fuji | green | super tourer |
Click to view other photos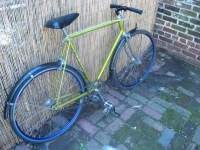 Mid 80s Fuji Super Tourer

Stock Fork / Dura Ace Headset

Stock BB and Crank (inner ring removed)
*Sold 04/20/10*
Super heavy but was a tank. Used as a beater / winter bike for 2 years.