Drew's Deathtrap
By turd on 03/28/2006.
Bike tags: Track bike
Click to view other photos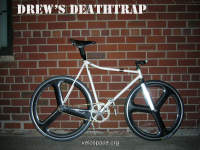 custom pursuit -- can't really make out the signature

bars are cut to about 4 inches on either side with heineken caps glued on as bar ends.

kinesis aluminum / chris king

55 x 11 or some retarded shit
this is my friend drew's bike.