3Rensho SR Export
By JML on 04/13/2010.
Bike tags: Road bike | 3rensho | campagnolo | CyclArt | ishiwata | japan | konno | lugged | nitto | road | Yoshi Konno |
Click to view other photos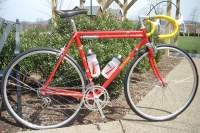 3Rensho SR Export Road / 52.5 center to center / 126mm rear spacing / 1984 production, Serial # A338-525

Nitto Dream Bar (44) / Nitto Pearl (10) / Benotto Cellotape over Scott padded tape

3Rensho investment cast offset crown / Chris King

Phil Wood / Mavic Open Pro Silver / Vittoria Open CX 25c / DT bouble-butted spokes and brass nipples / Campy C Record skewers

Phil Wood (Shimano DuraAce 9400 6-speed Freewheel, 13x23) / Mavic Open Pro Silver / Vittoria Open Corsa Evo CX II 25c (320 tpi)

Campagnolo Super Record crank with TA chainrings / Campagnolo Record botton bracket

Selle Italia Turbomatic 3 / Campagnolo Super Record (allen key bolt)

Crank Bros. Eggbeater Ti / Regina America Superleggero hollow pin

Campagnolo Super Record deraileurs front & rear, with polished and paint-filled Campagnolo Record levers, braided stainless cable with teflon or delrin liner at contact points on guides

Campagnolo Super Record calipers and levers / Gore cable / Koolstop Campagnolo-style pads in Campagnolo Chorus holders with hex-key bolts going into the holders
Ishiwata tubing, Shimano EF dropouts, 3Rensho and Tange Champion lugs. Repainted by CyclArt in 1991. Added second set of bottle braze-ons on seat tube, head tube pump peg, & chain hanger; replaced top tube and cable guides. Added chrome plating on rear dropouts. Fork is fully chromed (original) under the paint. Silca frame pump painted to match, with Campaganolo metal head. Velocity bottle cages. Most original hex head bolts replaced with hex key bolts.