Early 80's Columbus Commuter
By blindtaterface on 04/11/2010.
Bike tags: Fixed gear | Road bike | Commuter | 58cm | Brooks | columbus | fender | fenders | Joe Bell | lugged | nitto | san diego | sugino | Thomson |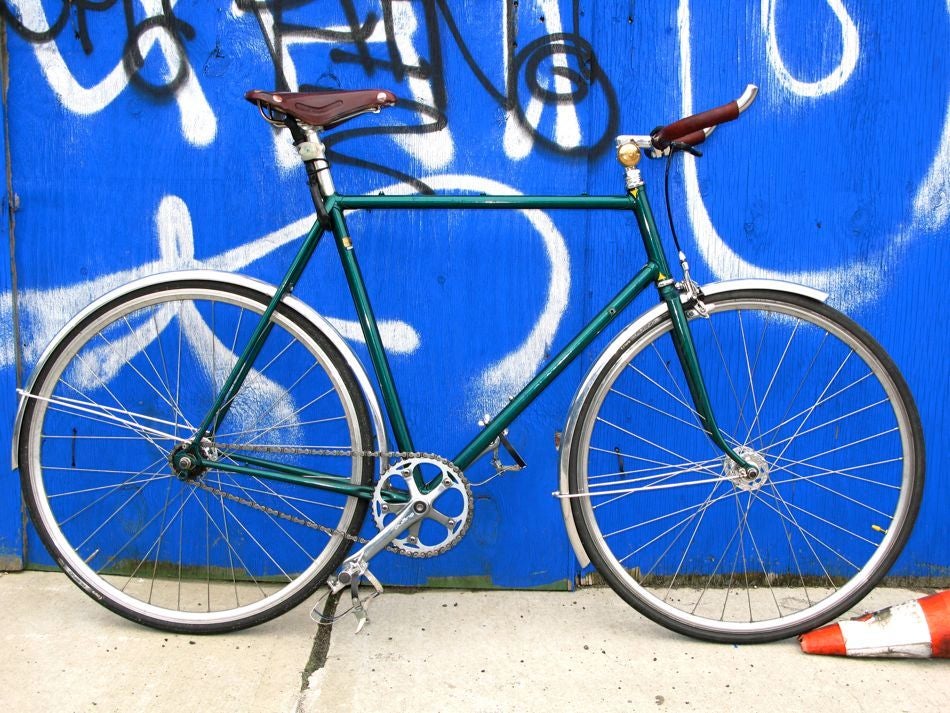 Click to view other photos

Unknown, hand built, columbus tubing, 58cm, 1982-84?

Nitto rb-018 38cm handlebars, Nitto Technomic 80mm stem

unknown, tange-seiki levin headset

formula laced to Mavic cxp22, vittoria rubino 700-23c

formula laced to Mavic cxp22, vittoria rubino 700-23c

sugino rd2 165mm, generic cartridge BB

Brooks Professional Limited, Thomson elite

MKS GR-9 and Christophe clips, KMC Premium HC chain

Tektro Quartz R736, Tektro RL cross lever

EAI Deluxe 17T to Sugino 46T, 3/32", Japanese Brass Bell and Velo Orange Fenders
I got this bike from an old bike dealer 2 years ago, he said it was NOS made by an unknown custom builder in the San Diego area in the early 80's. It was built for 27" wheels, and it is super light, which makes me think its SL tubing though I have no real idea. The only distinguishing details are the beautiful windowed lugs, the 120mm rear spacing and the Joe Bell paint job. If anyone has an idea of who built it, please let me know. Aside from the frame, I love my saddle and my insanely stiff handle bars.
Future plans include building some phil wood/open pro wheels and a high quality repainting, since this 20 year old paint chips a lot. I would love a higher quality brake and maybe a paul comp e-lever, though on a commuter in Brooklyn, I don't know if I really want to make this bike more attractive to thieves. I often wonder if I'll come back out to my bike one day and find the cockpit missing, it seems inevitable.
I love this bike, it's my first real build, though I didn't build the wheels or install the headset. I may get a real fixed gear frame and turn this bike into a geared tourer, though it may not be beefy enough. Many thanks to the guys at B's Bikes in Greenpoint, Brooklyn.