Volume Cutter 700cmx
By yourboychrisc on 03/16/2010.
Bike tags: Fixed gear | 50cm | 700cmx | chukker | cmx | CUTTER | fgfs | freestyle | isyar | phil wood | profile | raw | tarck | Volume |
Click to view other photos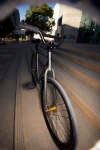 2009 Volume Cutter V4 50cm

Volume Trickster/Animal Jump off

Volume Fu Manchu/Eastern Integrated

26" Velocity Chukker 36h laced to gold Phil Wood - built by me / 1.3" Continental SportContact

Velocity deep V Laced to gold Formula - Fixed/Fixed/32c Vittoria Randonneur

Profile Deluxe 165mm Black w/ Volume Krull spider/Euro BB

San Marco Rolls/Thomson Elite

Odyssey Twisted PC w/ black Holdfasts/Izumi Chain

39t Custom black anodized Quamen Isyar Chainring/16t Dura Ace cog.
Building a new rear chukker/phil soon, then she'll be complete.