1972 Schwinn Stingray MX Conversion
By phillyc71 on 03/03/2010.
Bike tags: 1972 | ashtabula | bmx | MX | schwinn | stingray | BMX |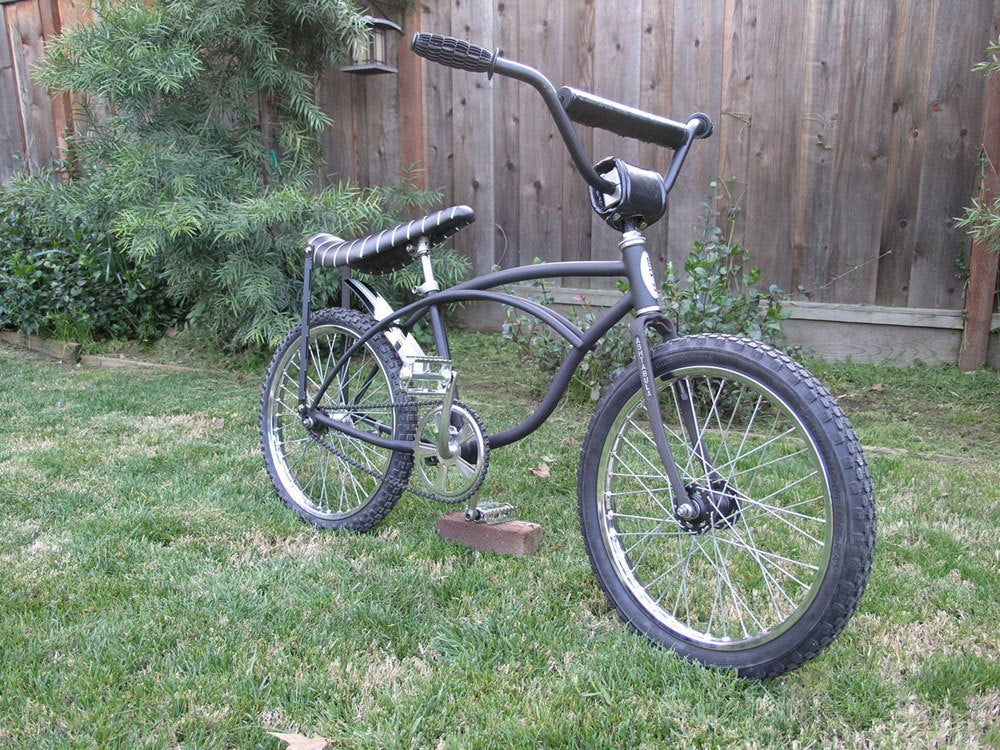 Click to view other photos

unknown MX bars 29" wide 5"high, unknown double clamp stem

NOS Ashtabula stamped, original Schwinn headset

Femco steel rim 20x2.125, ACS high-flange 36-hole, Schwinn "studded" knobby reissue

Femco steel rim 20x2.125, Shimano B-Type coaster hub 36-hole, Cheng Shin MX 20.1.75

Schwinn 6.5" cranks dated 1973, original Schwinn bottom bracket

original Schwinn banana seat, custom steel seat struts, original Schwinn seat post

NOS Union rat trap pedals, NOS D.I.D. 1/2 x 1/8 chain

coaster hub (mentioned above)

46 tooth original Schwinn chainwheel, 16 tooth cog, unknown waffle MX grips, NOS O.G.K. fender, 12" vinyl bar pad, 4" vinyl double clamp pad
In 1975 my dad's friend gave me his daughter's bike which she had grown out of. It was a early 70's Western Flyer 16" girls bike. My dad made that bike into a really cool MX style bike. He painted it flat black and bought an MX kit with bars, grips, number plate, fenders and also put a loaf-style MX seat on it. If I recall correctly it had a "gas tank" on it as well but I can't tell from the pics I have.
Anyway, I wanted to do a build loosely based on that first bike. Instead of using a 16" I thought I'd use the bike that helped start BMX: the Schwinn Stingray. I found a fairly complete example for a good price. The bike had 3 colors applied over the last 37 years so there was no worry about ruining an original finish. When I got the bike it was semi-gloss black, under that it was yellow and finally the original red. I stripped the frame and applied 4 coats of rattle can flat black.
For components I didn't want to go too high-end but rather find no-name parts like you would've found in the MX kits like my dad put on my old bike. I did splurge a little on the wheels but the bike didn't have original wheels so I used what would've been used in 1975. I tried using a Messinger MX loaf seat but the sqaure shape just didn't look right with all the curves of the Stingray frame. A very cool guy, Brian (a fellow OS member) was kind enough to fabricate some custom seat braces for me and they came out so nice. Thanks again SB. I have the correct number plate but am still searching for the correct numbers for it so it will stay off for now.