Concord 2sp Coaster-riffic Roadster
By seaneee on 04/09/2007.
Bike tags: Single speed | Road bike | Commuter | 2 speed | bendix | Brooks | Concord | conversion | Deep V | nitto | oury | roadster | soma | SR | touring | townie | Velocity | Touring |
Click to view other photos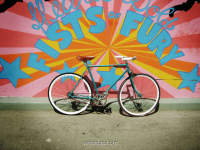 SR stem, Nitto B-601 promenade bars with white ourys

Tange Levin headset, stock forks

Suzue 32h NOS hub laced to machined white deep v. Soma tire.

Bendix Yellow Band 2sp kickback laced to white non-machined deep v. Soma Tire.

SR royal pista cranks with drilled chainwheel. Shimano UN-something BB.

Brook B-17 Narrow, SR fluted seatpost

MKS pedals with Soma clips, pink straps. KMC pink BMX chain.

46/18 cog. Tektro front brake, Shimano DX BMX lever (awesome).
Built for my wife. This started life as a free Concord (not concorde) 5sp roadster (had a rear der. no front). Removed a couple braze on's and painted. Was able to rescue the stock headbadge. The best thing about this is the 2sp Bendix hub with a coaster brake. One of the funnest things to ride. Just kick back for a high or low gear and kick back all the way to stop. Doesn't stop too fast, hence the front brake with the crazy reach. Anyway, got the old hub and rebuilt it. Took it apart and replaced the bearings, drum brake pads and some springs. Pain in the @ss. It came out pretty nice though.