1978 Fuji Finest MkII
By the fumingator on 02/11/2010.
Bike tags: Road bike | 1978 | 58cm | cromoly | Davis | dia compe | fred | Fuji | fujita | japanese steel | lugged | MKS | nitto | retro grouch | Sansin | steel | Sugino Mighty | suntour superbe | UKAI |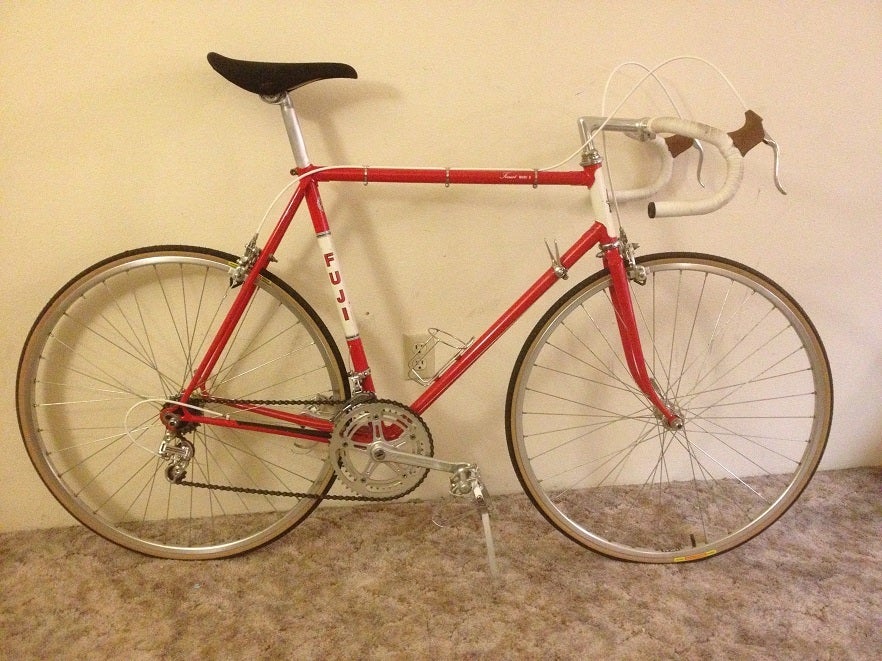 Click to view other photos

Ishiwata tubeset drawn for Fuji / 58cm / 1978

42cm Nitto B115 / 120mm Nitto Technomic Deluxe

4x / 36h Ukai 700x25c / Sansin / 23c Panaracer Pasela

4x / 36h Ukai 700x25c / Sansin / 23c Panaracer Pasela

170mm Sugino Super Mighty / 113mm Sugino Mighty

Fujita Conpy / 26.8 SR Custom 2-bolt

MKS Sylvan Road / Izumi Click Index Chain

14-21 Suntour Pro Compe / 52-42 Sugino / Nitto Tour botle cage
All Japanese! minus cables/housing, tubes, and cloth tape (oh god dont make me retape the cloth again with Viva tape)
Very close to original spec, with improvements where I saw fit (Superbe shifters + derailers, Fujita Professional Super leather saddle, etc). I don't ride it enough, but damn does it make good wall art. I'm probably a bit young to be thinking things like that...
Switched up saddles with the Track and uncrimped the seat tube to put in a properly sized 26.8 post. Alas, it is a mediocre SR post that will need eventual replacement with a 26.8 Sugino Mighty unit.
This bike rides wonderfully and is far from a wet noode, even in comparison to my Pinarello. The biggest problem is the square taper crankset/bottom bracket (and perhaps steel bottom bracket shell). that shit flexes like a mofugga. Apologies for the iphone photos