Bianchi D2 Super Pista build
By scratchex on 02/01/2010.
Bike tags: Fixed gear | 54cm | Bianchi D2 pista | DT SWISS | fixed gear | Pista Campy |
Click to view other photos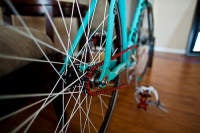 Bianchi D2 Super Pista/54cm/2009

Bianchi D2 Super Pista/FSA

DT Swiss 1.2/Phil Wood/Vittoria Rubino

DT Swiss 1.2/Phil Wood/Soma Everwear

Pista Campy 165mm/Phil Wood BB

Selle Italia NT1/ Thompson

in pic: MKS-RX1, replaced with chrome White Industries/MKZ chain/ all city cages & SAG double straps

Phil Wood 19t Cog/49t Chainring replaced with a Phil Wood 17t cog
This was the first fixed gear I ordered but took over 4 months for the frame to come in since it came directly from Italy. In the meantime I built up the Vigorelli.