Cinelli Vigorelli build
By scratchex on 02/01/2010.
Bike tags: Fixed gear | 54cm | cinelli | DT SWISS | Mellow Johnnys | phil wood | Pista Campy | Vigorelli |
Click to view other photos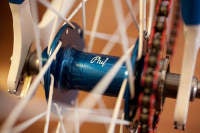 Cinelli Vigorelli/54cm/2009

in pic:Syncros, replaced with Deda Bullhorns/Control Tech 31.8 stem/Portland Speed metal grips in pic

DT Swiss 1.2/Phil Wood/Continental Grand Prix 4000 blue (in pic Soma Everwear)

DT Swiss 1.2/Phil Wood/Soma Everwear

Pista Campy 165mm/Phil Wood BB

in pic: MKS-RX1, replaced with Blk White Industries/MKZ

Phil Wood 19t Cog/49t Chainring
First fixed gear build of 2009 by bike engineer Christian Hartwig at Mellow Johnny's in Austin,TX. The pics were taken after the build was complete and I have replaced some parts like the handlebars with the same Deda Nero bars on my MASH. I have also replaced the pedals with the Blk White Industries and white Tokyo SAG double straps. Also replaced the front Soma Everwear tire with a blue Conti Grand Prix 4000 tire.