Bianchi Pista (Sold)
By lilcreampup on 04/02/2007.
Bike tags: Fixed gear
Click to view other photos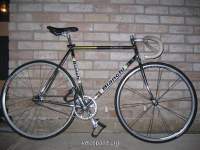 Mavic (I had a Bontrager Race front wheel, but after getting hit from the side it was bent in a 45 degree angle.)

Truvativ Touro/ Truvativ Power Spline
This is my first track bike. I have had it for little less then a year and its had some wear and tear. Main headache about this bike is the 3rd month I got this bike the lockring came loose, I tightened it back up and thought it would be fine. A few months later, it was stripped. I wasn't sure if it was something I did (riding to hard, but I reall doubt that) or was it a mechanical error.