Polish/Italian Track Pursuit Featured Bike!
on 05/6/2011
By Gustaf_E on 01/23/2010.
Bike tags: Fixed gear | 3 ttt | 3ttt | campagnolo | Campagnolo Victory | italian | Italy | mavic | phil wood | poland | Polish | pursuit | Selle Royal | Track | TT | Zipp | Zipp 950 |
Click to view other photos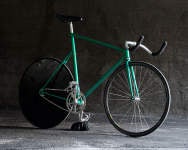 Osvaldo Cazzaniga, 60", 1980-90

3 TTT Pursuit Competizione, 3 TTT

Osvaldo Cazzaniga, Campagnolo

Mavic Mach2 CD2 Tubular, Mavic Team 89, Vittora Corsa Evo CX II

Zipp 950 Track Disc Wheel (Repainted Paramount Sponsor Wheel), Zipp 950

Campagnolo Record Pista 165mm 51T, Phil Wood (Italian Threading)

Selle Royal Dolphin / Campagnolo

Campagnolo Victory / Unknown
Bought this frame from Warsaw, the seller tought it was made by Osvaldo Cazzaniga, an Italian that had moved to Poland. It must be made at the end of the 80s or the beginning of the 90s. If someone has more information about the frame, please let me know.
FRAME, DISC WHEEL, FRONT WHEEL AND HANDLEBARS ARE FORE SALE, SEND E-MAIL TO [email protected] IF YOU ARE INTERESTED