Battaglin road bike, 1987 World Champion Steve Roche
By jet sanchEz on 12/31/2009.
Bike tags: Road bike | Battaglin | columbus | Cromor | italian | Steve Roche |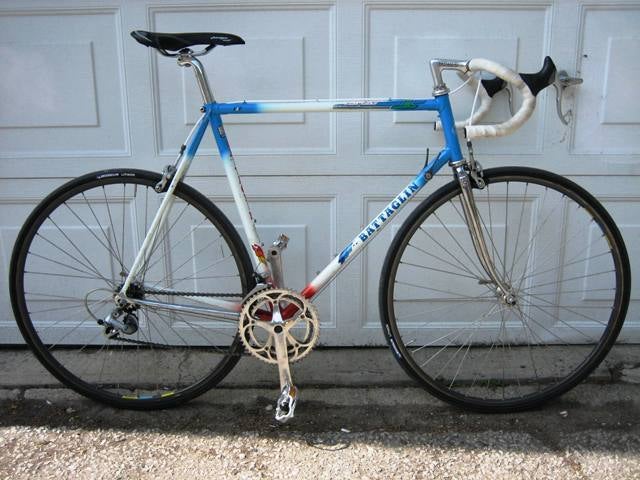 Click to view other photos

1987 Battaglin, 58cm, Columbus Cromor tubing

Modolo flash bars with a Cinelli 'Battaglin' panto'd stem

Shimano 600 headset, Battaglin Columbus fork

Mavic 4CD rim laced to Shimano 105 hub

Mavic 4CD rim laced to Shimano 105 hub

Campy Croce D'Aune crank, Shimano 600 BB

Sella Italia Ponza saddle on a no-name seatpost

platforms with a generic chain
I had a panto graphed Battaglin Cinelli stem in my parts box for years and I was always on the lookout for one so when this came up on CL for a very good price, I jumped at it.
The colour scheme is from Steve Roche's triple-winning Battaglin and I guess the company figured it would be smart to copy it for all of their models that year.
Roche had an incredible year in 1987:
Giro d'Italia (1987) - Stephen Roche
Tour de France (1987) - Stephen Roche
World Championships - Road (1987) - Stephen Roche
The frame has tonnes of pantographings all over it and I will take photos of them one of these days...