Sleipnir: 1971 Raleigh International touring
By eaglerock on 11/23/2009.
Bike tags: 1971 | 50.4 | 531 | barcon | Berthet | Bruce Gordon | campagnolo | carlton | crank brothers | cyclotourist | cyclotouriste | duopar | english | french | half-step | huret | international | lugged | Lyotard | Mafac | mavic | Nervex Pro | nitto | phil wood | Raleigh | randonneur | Reynolds | Sachs | steel | suntour | T.A. | TA | touring | Cyclocross |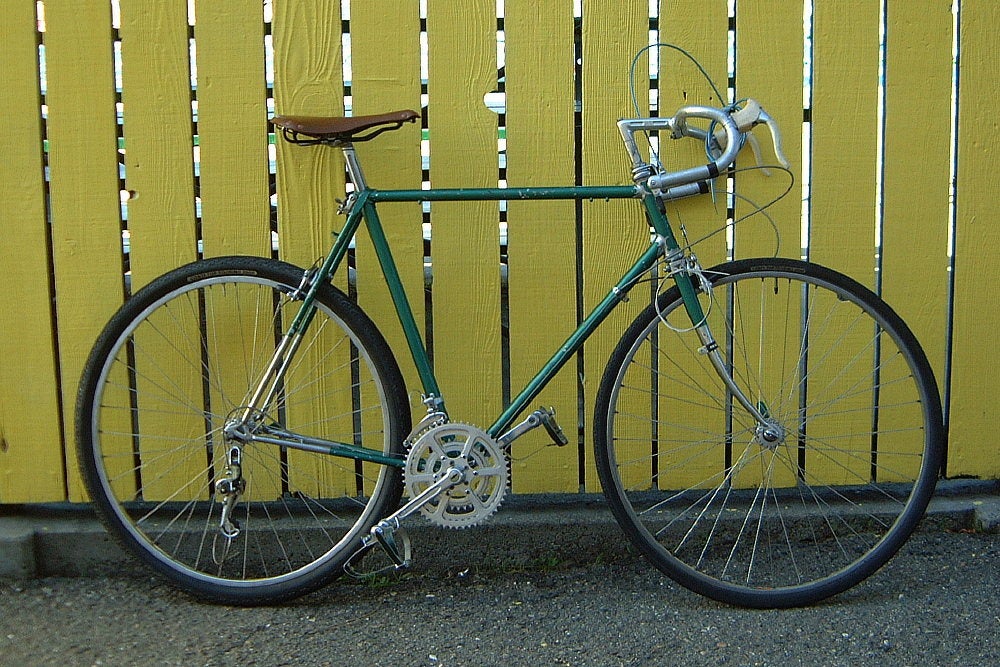 Click to view other photos

1971 Raleigh International (Carlton-built, Reynolds 531 DB)

46cm Nitto B-177 Noodle/Nitto Technomic

Raleigh-Carlton Reynolds 531/Campagnolo Nuovo Record

Velo Orange Switchable Dynamo/Wolber (Super Champion) Modele 58/Continental Top Touring 2000 700x32

Phil Wood (late '70s alloy)/Mavic MA2/Continental Top Touring 2000 700x32

5-pin 50.4 BCD Nervar Sport/Phil Wood #3 (Campy-to-ISO taper, 119mm)

Selle An-Atomica Titanico/Sugino SP-KD

Crank Brothers Quattro/SRAM PC-890 (nickel-plated for extra shinyness and rust resistance)

Suntour Accu-Shift 6-speed+friction barcons/Campagnolo Nuovo Record (f), Sachs-Huret Duopar Eco (r)

Mafac Racer (calipers & levers); Carlton hoods

Suntour 13-26/TA 34-46-50/Bruce Gordon lowrider front rack, Bruce Gordon rear rack/Reelight induction lights/ Honjo fenders

Hulk have no need for puny springs
The list of Parts To Be Swapped/Upgraded/Majorly Futzed With:
replace 44cm Nitto Noodle with 46cm Noodle
replace cup-and-cone BB with Phil Wood triple
smaller granny ring (30? 28? 26?)
replace aluminum rear rack with steel (Tubus, Bruce Gordon, Nitto, Surly? There's a new Taiwanese import at Velo Orange called Dajia that's sort of Tubus-ish in silver)
resolve the platform vs. cleated pedal issue (Berthet-Lyotard/Campy vs. Crank Brothers Quattro)
install handlebar bag support rack (TA, Mafac preferred; Pletscher or Velo-Orange acceptable); possibly a decaleur as well
install quick release/cable adjuster for rear brake cable
battery-free lighting: more magnets for front/rear induction lights, front wheel with generator hub, generator-driven front/rear lights
better mounting system for front lowrider rack - Tubus LM-1 fork clamps?
real fenders (Honjo or Lefol Le Paon preferred, but steel Berthouds are cheaper)
at some point I'm going to have to paint this or powdercoat or something
and of course, wrap the bars - either with the Tressorex cotton tape I already have or Velo Orange elkhide wrap
August 10, 2010: I have finally won a '70s vintage Phil Wood triple bottom bracket on eBay. Fortunately, in anticipation, I already bought the fancy-schmancy cup wrench. The work waits! I'm alive at last! And I'm full of joy!
2010.10.24: Dammit, a browser crash took away a bunch of stuff I'd written. Let's see how much I can remember:
I am angry and frustrated to report that I am unable to locate my fancy-schmancy Phil Wood BB cup wrench. I'll keep looking, but I may have to break down and get the less fancy one that you use with a Crescent wrench. This will probably be more practical for touring, anyway; it gives you an adjustment tool you can use in a shop without all the extras.
The search for components goes on:
TA mini-front rack/handlebar rack
Handlebar bag, preferably decaleur-mounted
Dynamo front wheel - either SON/Schmidt (if I win the lottery) or VO's threatened "revolutionary" hub, about which they've been coy for months
Bruce Gordon rear rack, or Tubus Logo
Take my Phil rear wheels down to San Jose to have them swap out the 6-speed end caps for 7-speeds, so I can use one of the many 7-speed steel Sachs-Maillard low-gear freewheels I've been accumulating
And of course, the 46cm Nitto Noodles.
The winter rains just started the other day, so I'm really antsy to get the Phil installed, check the chain for stretch, switch out the 34T granny for a 32T I got from Legislator (not small enough, but every little bit helps), and give it a full winter prep overhaul/lubing. I'd really like to get my hands on the wider Noodles, so I can finally tape up the bars; I had a scary slippy-slide thing the other day. Bare bars + rain + ungloved hands = potentially dangerous accidents.
I've switched over to cleated pedals for the time being, as they're really more energy-conserving than the flats. I found a pair of used Sidi police half-boots that seem pretty good for walking, clip in easily, and are warm with wool socks. Although the hard-rubber sole is flexier than I'd like, they may become the default touring shoes. Depending on the discontinued Quattros is risky, but they use the same cleats as CB's mountain pedals - the plastic adapters are only used with road shoes. Still, I should probably hoard bearing rebuild kits, and maybe get another set or two of pedals to be safe.
For the last six months, I have been idly fantasizing about qualifying for Paris-Brest-Paris 2011, and flying this bike over to France for the rally. I just checked the routes I mapped out on MapMyRide, and discovered that the highest point on the route is 1200 feet. Hell, I cleared that on Mount Diablo three weeks ago. I think I can do it, as long as I have the stamina to get in 750 miles in 90 hours.
Pictures of the current build as soon as it's dry enough to take them.
2011.07.18: Major renovations are underway. New photos and a (re)build thread to be posted in the next few days.
August 2011: Rebuild thread here - https://velospace.org/forums/discussion/3918/build-thread---raleigh-international-tourer/.
September 2011: Some major changes are more or less in place:
44cm Noodles swapped out for 46cm Noodles - I may need a shorter stem now
Suntour accu-Shift barcons installed; 6-speed indexing more or less works with a 6-speed Suntour freewheel and the French longpull derailleur (quelle horreur!)
With great drama, the loose-ball BB has been replaced with a Phil Wood. The Japanese 5-pin crank has been replaced with a Nervar Sport
Bruce Gordon rear rack installed
Honjo front fender installed; rear fender will need more futzing
Front generator wheel was built and installed in May 2011 with Velo Orange clutch-equipped hub, temporary Wolber Modele 58 rim, crappy old DB spokes. A rebuild with Mavic T520 touring rim and Sapim DB spokes/nipples is in the planning stage
Kool-Stop brake shoes have been replaced with salmon Scott/Mathauser pads, which are creating the classic "Mafac squeal". I expect to have to twist the brake caliper arms to toe the shoes in.