Ken Bird
By Longyester on 11/10/2009.
Bike tags: Road bike | 531 | ken bird
Click to view other photos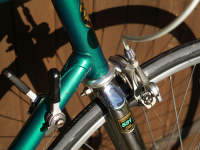 This is a Ken Bird marked frame bought from his shop in about 1986 but I am not sure if it was manufactured by him or if it is a stock frame that he made up. Any ideas?