Bianchi D2 Super Pista (sold) Featured Bike!
on 01/9/2010
By proudxvxyouth on 10/25/2009.
Bike tags: Fixed gear | Track bike | 55cm | Bianchi | celeste | denver | mavic | sugino 75 |
Click to view other photos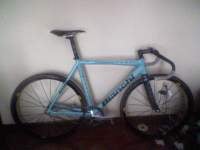 Mavic Ellipse/Conti Gatorskin

Mavic Ellipse/Conti Gatorskin

Specialized Road Comp/Thomson Elite

49/17 around town. 49/15 on the track
This is my bike I intend on using for the track and as an excessive ride for around town on nice days. I flipped the stem and now just use drops. It fits so much better now.
Sorry for the crappy cell phone picture. I'll get a camera eventually.