Italian mid-80s Conversion - Athens Daily Commuter
By fixed gear athens on 10/16/2009.
Bike tags: Fixed gear | athens | conversion | fixed gear athens | greece | sr royal | surly |
Click to view other photos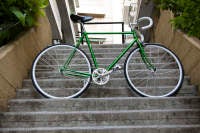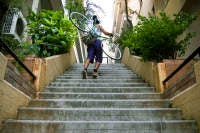 Unknown Italian steel frame, mid-80s

Suntour hub, rims from local markets

Surly hub, Surly sprocket, rims from local markets

Brooks, seat post from local markets
This is the first bike I've built. It is my favorite frame. I have been riding this for quite some time and it is very responsive and it feels like it is tailored-made for me. I bought it from legendary Greek mechanic Mr Tsibides and neither he nor me have ever found out what it is. He says it is Italian mid-80s.
Please if you know what frame is this please let me know. I would be grateful.