IRO fixed street/track
By aldesso on 03/14/2007.
Bike tags: Track bike | Brooks | Chopped Brooks | copper | fixed | gold | IRO | leather bar wrap | leather saddle | NY | polished | Swift |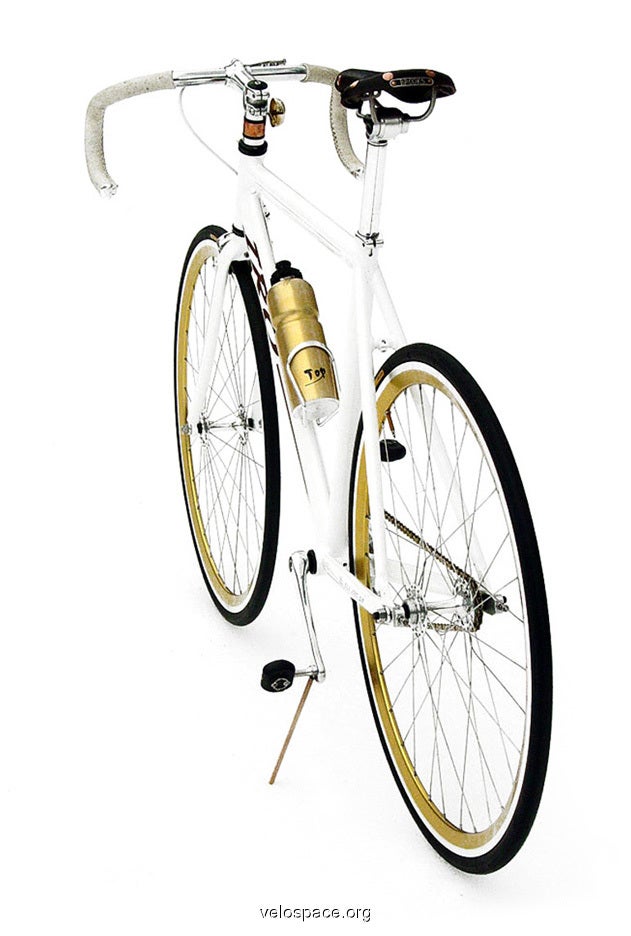 Click to view other photos

IRO "Jamie Roy" 53cm w/ copper accents

lightly chopped Steel Nitto 123 / Elk Hide wrap / Polished IRO stem

stock IRO fork ... cane creek S3 headset w/ custom copper spacer, brass bell

32h Velocity Deep V radial / IRO polished high flange hub , custom front brake setup w/ Polished Tektro calipers

32h Velocity Deep V twist/radial / IRO polished high flange fixed/fixed hub

Polished Shimano 600 cranks / Shimano UN-91

Trimmed Brooks Swift Saddle / polished Race Face seatpost

Eggbeaters / KMC gold chain

Wheels Manufacturing 16T/Surly 18T ... Drilled and Polished Sugino 46T Chainring ... gold anodized chainring bolts
Wanted a front brake setup to remain legal on the street and for that last second emergency.
I ended up finding an old Shimano mountain lever originally designed to clamp around the handlebar. Tried it but hated the look as it destroyed to sleekness of the bike. I then set out to modify the heck out of the mountings (ie lots of grinding and cutting)until I could fit it to the actual stem face clamp (which I also had to substantially modify) . The solution was elegant, out of the way from riding on the wraps and still accessible ... But, as someone pointed out "the only downside would be the fingerprints on the bars if I did use it" ... I'll take that.