1996 GT Road Bike (SOLD)
By generate on 10/05/2009.
Bike tags: Road bike | campagnolo | dura ace | GT | Nitto 115 | roadbike | triple triangle | Vento |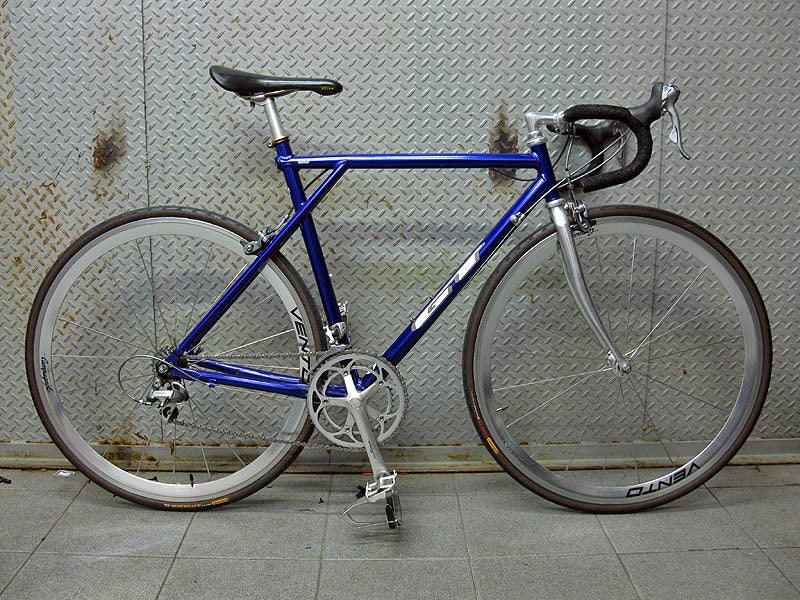 Click to view other photos

1996 Aluminum GT Fury Frame, 52cm

Nitto 115 40cm, Nitto Dynamic 70mm stem

GT Aluminum Kinesis, Dura Ace headset

Campagnolo Vento, Campy Hub, Gatorskins

Campagnolo Vento, Campy Hub, Gatorskins

Selle Flite / unknown (soon to be changed)

Unknown w/ MKS clips and straps/ wipperman
This is my first road bike. I just wanted something nice to jump on when I don't feel like riding fixed (which isn't often).
I gave it a small overhaul and bought new bars, stem, bar tape, new derailleur hanger and new Dura Ace shift and brake cables, Dura Ace headset, and a classic Flite saddle. I came across a great deal on the wheels. Some may think they are out of place but I love them on this bike, or any for that matter. Its been a good learning experience during the rebuild, and I'm really happy with the results.
I've googled the crap out of it but I don't have much info on the bike itself. After finally figuring out what model it is, this is what I found on bikepedia: Click here for info