Austrias very first EAI Bareknuckle
By plateau77 on 10/05/2009.
Bike tags: Fixed gear | Bareknuckle | Brooks | phil wood | sugino | Thomson |
Click to view other photos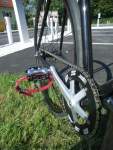 Nitto B201aa / Thomson Elite 25.4/110mm

EAI Bare Knuckle / Chris King 1 1/8" NoThreadSet

Phil Wood 32H / Velocity Deep V / Conti 4000 23mm

Phil Wood 32H / Velocity Deep V / Soma Everwear 26mm

Sugino 75 / Campagnolo Centaur

Brooks Professional Chrome / Thomson Elite

Soma Hellyer (with Soma double straps) / KMC 710

Shimano Ultegra SL / Gran Compe Shot Lever

EAI cog 17t / Sugino 75 48t
It took quite a while to build up the bike, I took the wheels from my Gorilla frame on which I plan to install a Dura Ace / Open Pro combo for the track in Vienna. This one is definitely for the streets and it's a beast, way more aggressive than the Recherche I used to ride the last year. All in all, I'm happy to have it and I'm really scared to leave it locked alone outside when I go for a drink or so :-)
Update: New pic features a new front wheel (Campagnolo Record hub laced to Ambrosio tubular rim with Vittoria Corsa CR tire on it), also I switched to a black Sugino 75 crankset! I still like this bike, I rode tons of kilometers last year!