Nicoletti's Track Bike
By samburglar on 03/11/2007.
Bike tags: Fixed gear | Track bike | 50cm | Bareknuckle | campagnolo | EAI | fast | kierin | match sprint | nitto | record |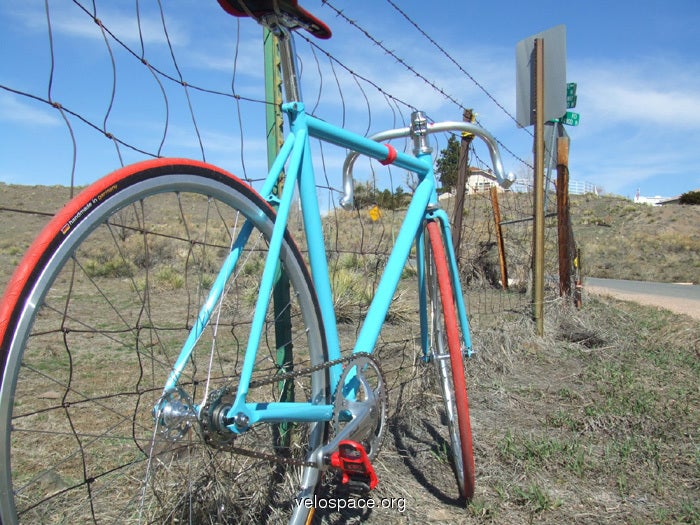 Click to view other photos

Nitto B125AA (wrapped in red cinelli cork, not pictured), Nitto UI-5GX

Bareknuckle, Ritchey Logic WCS

Campy record, DT RR 1.1 rims (pictured) I race on Dura Ace hubs laced to mavic reflex rims w/ tufo S3-pro rubber

Campagnolo record pista crankset (is there anything more beautiful?) and bottom bracket

Sella Italia SLR (f-ing ball buster! looking for a comfier vegan alternative), old polished Dura Ace seatpost

Look Keo Sprint pedals, SRAM PC-1 chain for the road (pictured), Izumi super-toughness for the track

EAI cogs. 49/18 when spinning on the road.
I'm in love with this beauty! It took me about 2.5 months to select/collect the stuff and put it all together, and it was well worth the wait. My dad taught me how to build wheels, so all of mine are hand built by him and me. It gets raced in Colorado Springs every week that the weather permits, and is quickly collecting scratches, dings, and character.