Panasonic NJS track bike (SOLD!) Featured Bike!
on 01/10/2011
By hsiaohong on 09/29/2009.
Bike tags: Track bike | aerospoke | Chris King | DT SWISS | h plus son | Hed-3 | Kashimax | MKS | panasonic | phil wood | sugino 75 | vittoria |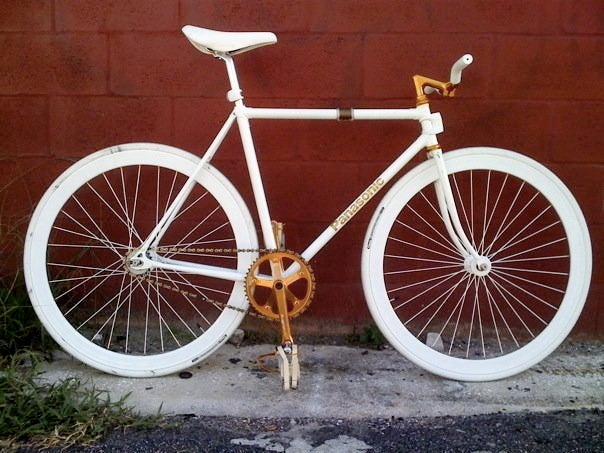 Click to view other photos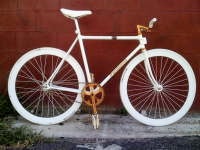 Panasonic NJS track frame / 52cm

Nitto B-201, Nitto RB-021 / Nitto Jaguar, Nitto Technomic

stock / Tange, Chris King

Phill Wood low flange / DT Swiss radial lacing / H Plus Son 32h / Vittoria Zaffiro Pro, Gran Compe / Hed-3 / Aerospoke

Phil Wood fixed/fixed high flange / DT Swiss three cross lacing / H Plus Son 32h / Euro Asia Gold Medal Pro cogs (16 and 18) / Vittoria Zaffiro Pro, Gran Compe / Aerospoke

Sugino 75 with gold Sugino TORX-30 alloy track bolts / Sugino 75 Superlap

Kashimax Five Gold, San Marco Rolls / Nitto Crystal Fellow

MKS RX-1, MKS Sylvan / Izumi Super Toughness
Everything is in white or gold now. I originally wanted a gold seatpost and gold hubs, but Nitto does not make 26.8 gold anodized seat posts and Phil Wood stopped production on all gold hubs. Silver Sugino alloy dust caps have been added. Gold Nitto B123AA drops coming soon with better pics.
Enjoy and thanks.