Porsche Design Inspired Leader 721
By SquadraCorse on 09/08/2009.
Bike tags: Fixed gear | 721R | alize | b43 | gray | leader | miche | MKS | Okami | Porsche | soma | sugino | supertype | Velo-Orange | Velocity | VO | wood | Workerman |
Click to view other photos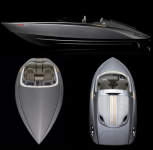 Leader 721tr, Powdercoated Charcoal Gray, Custom Porsche Design Decals

Workerman Wooden, Velo Orange 70mm

Velocity B43 Silver, Zaffiro

Velocity B43 Silver, Zaffiro

Sugino RD, TA Alize 47T Ring, Truvative Square Taper

Soma Okami, Miche Supertype
Visit http://cargocollective.com/workerman for the gorgeous handlebars
Build based on the Porsche Design Fearless F28 Yacht. Don't know why that inspired me, but I love the Porsche Design group philosophy and products. Timeless clean style.