Kenevans TT bike Featured Bike!
on 11/8/2011
By slentz on 08/10/2009.
Bike tags: Road bike | 531 | 650c/700c | funny bike | kenevans | mavic bullhorns |
Click to view other photos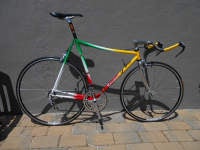 Mavic Bullhorn (special edition) / Cinelli Grammo 130mm

Vitus 979 / Stronglight B. Hinault

Bullseye 24 / Velocity Escape / DT Aerolite Blades / Tufo S3 180g

Bullseye 28 / Velocity Escape / DT Revolution db's/ Tufo S3 195g

Campagnolo Record / American Classic Ti

Aerolite Ti / Regina Hollow Pin

Campagnolo Record (modified)/ Huret Jubilee / Campagnolo Super Record

Campagnolo Record (Ti bolt) / Sram TT-900

Regina 12-17 / 44-54 chainrings
I came across this frame many years ago and picked it up... never got around to putting the whole bike together until recently. Weighs in at 6.96 kilograms or 15.3 pounds. Not bad for a steel frame eh?
I put the Vitus fork a while back, that allowed for the Campy record front. Then finally got around to cleaning up some Mavic Bullhorns... the Sram levers are nice 'cuz they don't require drilling additional holes in the bars...
If you look close, the friction shifter tightning screws are from old school campy, early 60's or so... the levers are campys as well, but I took a drill and some files to 'em in 1972 or so...
The point is, this bike has a bunch of cycling history in it...