1970s Proteus Track Bike. Featured Bike!
on 11/15/2012
By Riada73 on 07/24/2009.
Bike tags: Fixed gear
Click to view other photos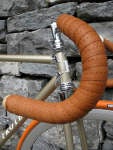 1970s Proteus Track Frame. (Reynolds 531 / Nervex Lugs)

Nitto B125 Track Drops > Nitto Jaguar 90mm Track Stem > Brooks Leather Tape (Honey)

Proteus (Reynolds 531) > Tange Levin

32H Suzue Pro Max > Rigida DP18 Rims > Vredestein Fortezza Tires (Honey/Orange)

32H Suzue Pro Max > Rigida DP18 Rims > Vredestein Fortezza Tires (Honey/Orange)

Sugino Super Mighty (Hand-Polished and drilled) 47t / Sugino 75

Brooks Team Professional 'S' (Honey) > Nitto Jaguar SP-72 (Hand-Polished)

MKS Stream > MKS Steel Clips > MKS Fit-A Straps > SRAM PC7X Chain.
This is the build that I just completed for my wife. It's my (lucky) 13th Anniversary gift to her...
We found the frame online and it was in decent shape, but the big draw was the Reynolds/Nervex combo for a more than reasonable price. It was only after we found the frame and did some research that we found out more about Proteus and their significance in the landscape of traditional American framebuilding. I am not sure of the exact date of the frame, but I was told it dates to the mid-late 70's. The serial number is 00629. If any of you have any info about Proteus or an idea of what the actual date might be, it would be greatly appreciated!
The inspiration for the build was a bottle of Veuve Cliquot Champagne. Other goals for the overall look and feel were to source predominantly Japanese part in homage to Yamaguchi-san who was primary frame builder at Proteus in the late 80's after his time building for 3 Rensho. Another goal was to create a build that has no black parts... at all. The frame restoration and paint was done by Noah Rosen at Velocolour in Toronto (www.velocolour.com). Midway through his work on this frame, Noah won the award for best paint at the NAHBS for a 1950's Cinelli restoration that he did for Mike Barry. My thanks to Noah for his patience with the many 'surprises' the frame had in store for him, and for – quite frankly – a paint job that far surpasses anything I could have hoped for.
Happy Anniversary babe!