A potentially serious error in judgement
By eaglerock on 07/17/2009.
Bike tags: Road bike | 1970s | Atax | Bertin | constructeur | cyclotouriste | french | Mafac | racer | steel | TA | touring | Touring |
Click to view other photos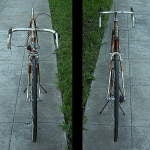 Bertin steel - C34 or C132, I think/54cm/early 1970s - 1972?

unidentified (so far)/Atax

Bertin, Durifort tubing/Lightrace

not yet selected; Phil Wood FW/Mavic MA3/Continental Top Touring 2000 (700x47) for now

TA Cyclotouriste/TA 344 - soon to be replaced with sealed-bearing Edco Competition triple

decaying POS/unidentified (so far) French

unidentified Atom (French), destroyed in an attempt at rust removal (oops!)/thoroughly rusted and tossed

Simplex Criterium 3163/Suntour Spirt F

Mafac Racer/Mafac Racer (half-hoods)
2009.07.17: I drove 80 miles yesterday to scoop this up. My immediate intention is to strip off the cranks for a Raleigh-based touring build; but looking at this frameset, I think there's another build in the works for Project Boy.
I have successfully resisted the lure of French bikes since I went through about six Motobecanes in the mid-'70s: All excellent bikes, all brand-spankin' new, each stolen within six months of purchase. I do not approve of the...'unique' sizing/threading conventions of traditional French bikecraft, and the fact that French BBs not only use oddball sizes/threads, but they also thread the drive-side cup so that pedaling will unscrew it -astonishingly stupid. But they are so pretty, and so elegant; tres sportif. And so I may have acquired Yet Another Expensive Project. Perhaps convert to 650b, for a loaded touring bike. The first step will be derustification, and seeing if I can get the rattlecanned pea-green paint off without trashing the potentially very slick copper paint underneath it. Perhaps it's time to try sfbee's vinegar trick.
It's going to the very bottom of the build pile, and there are at least two bikes ahead of it. But I will be brooding about this.
2010.06.21: Build thread going on right over here. More details and photos here as things actually get finished.