Isabelle Pake
By lilybell on 06/29/2009.
Bike tags: Fixed gear | 49cm | black | Deep V | fixed gear | fixie | front brake | IRO | lugged | monochromatic | Pake | Philadelphia | philly | stolen |
Click to view other photos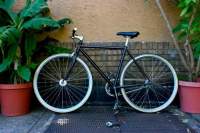 Active (chopped w/ Oury grips and Mash SF bar ends)/Thomson Elite Road Stem

IRO/Gun Metal Grey Machined Deep V

48/16 (it's cool, idk how to skid yet)
putting this together was an experience, a long time coming. so excited about it.
baby whip is small and fun. riding feels natural now.. like walking.
THIS BIKE WAS STOLEN IN DOWNTOWN PHILA. PLS EMAIL ME AT [email protected] IF SHE RESURFACES ANYWHERE.