Cannondale track
By justinkitchen on 06/14/2009.
Bike tags: Track bike | so sick!!!
Click to view other photos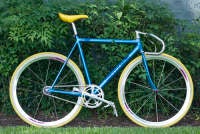 90's cannondale track 54/54

nitto 95 steel drop stem/aluminum risers

cannondale track and suntour superbe headset

campagnolo vento to suntour superbe pro high flange hub

sugino 75 bb and suntour superbe cranks and chainring

vintage yellow plastic concor bmx saddle

campagnolo pedals ,cages and straps

49/17 euro asia cog /suntour njs lockring
FOR SALE picture is shitty because i took it with an old phone.new pics up soon. for sale or trade frames for steel frame.