By onezilla on 06/12/2009.
Bike tags: Fixed gear | Track bike | 56cm | campagnolo | cinelli | corima | dura-ace | EAI | eimei | HKK | japan | MKS | nitto | njs | phil wood | sapim | Shibuya | shimano | thompson | tokyo | Toshi |
Click to view other photos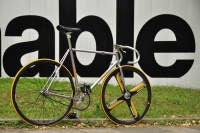 Eimei done with Columbus SLX and Cinelli lugs

Nitto B123AA 370, Cinelli Grammo 90

Eimei, Hatta Swan Super Deluxe

Corima HR Carbon Four Spoke, Vittoria Open Corsa Evo-CX

Phil High-flange track hub (32), Campagnolo Omega-V, Sapim x-Rays, Vittoria Zaffiro

Dura-Ace FC-7600 167.5, Sugino 75

Selle San Marco Concor Light, Thompson Elite

MKS Royal Nuevo, MKS aluminum toe-clips, Toshi double straps, HKK Vertex

EAI Superstar Track 17t, Dura-Ace FC-7710 Track Chainring 49t
The second Eimei; Cinelli lugs, Columbus SLX tubing, and a mix of various parts from here and there.
It's taken a little hard work to get it done but it was a lot of fun doing it and even more fun to ride.
The guy who sold it to me somehow managed to get a 27.2 seatpost rammed down into a 27 size downtube, thing took me an hour of hammering to free it. The headset that came on it was jacked up too so I was happy when my lbs gave me a used, properly working one for free. Thanks Ebisu Pro-Tech!
Also thanks to Tanabe-san at Tsukumo Cycles for sorting out the front brake.
Another mention is that this was the first wheel I built up from scratch, still rolling smooth and strong. Looking forward to doing more in the future.