RIP Giordana
By ecpowertap on 02/11/2007.
Bike tags: Track bike | 52cm | Courier | Giordana | Kangaroo | Messenger | Philadelphia |
Click to view other photos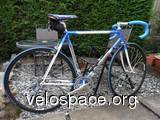 Cinelli pista bars and stem

Open pro, ultegra, Dt swiss, Gator skin 25c, I rebuilt to a radial

dura-ace LF, cxp 33, Gator skin 25c

sugino 75, phil 110 bb with campy taper (long story)

fizik alantie ti/carbon, tompson elite

campagnolo w/ doctored mks steel cages, alloy cages break easy, sprint double straps and izumi track chain.
This bike went to work one day and a actor named Lesley got into a cab, I did a pick up and a quarter block later the actor named Lesley got out of a cab on a driver side and destroyed this bike, he is doing a production for the theater company of philadelphia so feel free to go and heckle him. Dispite calling a lawyer, filing police reports and making calls and talking to lots of people, I'm pretty sure I'm going to get fucked over in the end and get no money to replace this frame.
I've seen several people wondering where these frames come from because there are a few road and pursuit frames out there. what I have been able to find out, was the frames were made in Italy by several different smaller frame builders then shipped to the states to get painted. Saving money and the paint is much better then the vast majority of the italian frames I've seen, no flakeing.