Benotto aka Pinky!
By xgreenisemox on 06/05/2009.
Bike tags: Fixed gear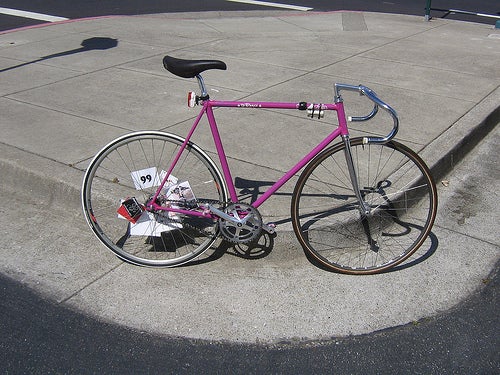 Click to view other photos

Deda Pista Steel 42cm/Kusuki Medallion 1200

Mavic 501 Track/Sun Mistral Sew up (also on the matching rear)

Sunshine NJS High Flange/Campagnolo Ypsilon Aero

Suntour Superbe Pro/Campagnolo Veloce sealed

Selle San Marco Concor/Campagnolo C Record

Speedplay Zero (Pink!)/HKK Vertex
I broke this bike 3 times. Bernie Mikkelsen replaced the head tube and re welded both the seat stays. It is now a Benotto x Mikkelsen
I will be purchasing a Benotto decal set, finished the lug painting and then clear coat the frame.
I have raced and worked on this bike for 3 years. It will be going back to Tokyo and be my pro racing track bike.