90's Cannondale Track 56cm
By msneeri2 on 05/28/2009.
Bike tags: Track bike | nitto | Stiff | Suntour Superbe Pro | Track
Click to view other photos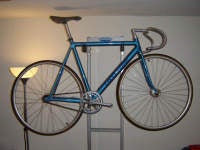 90's Cannondale track, aluminum, 56cm

Nitto Pearl 100mm, Nitto B123aa 40cm/Nitto Dynamic 90 degree riser stem, Titec hellbent Risers

Cannondale Steel/Suntour Superbe Pro Track

Suntour superbe pro laced radially to Sun Mistral Tubular/Formula to Deep V

Suntour superbe pro laced 3x to Sun Mistral Tubular/Formula to Deep V

Suntour superbe pro Track 167.5 48t sugino competition ring/Suntour Superbe Pro Track BB

Kalloy post, Selle Italia Flite/Thomson setback, Maroon Brooks B17

MKS Sylvan Track, black, with steel MKS clips/izumi chain1/8"

15T Suntour 1/8"/Surly 18T 1/8"
when i bought this in '05, it had only seen track use... i rode it very minimally with the tubulars and high gearing, and then ended up (due to poor planning) having it as my only frame with a alleycat i wanted to do coming up. so i set it up in the most regrettable manner you see above with the ridiculous riser stem/bar combo (my back had been bothering me, and i'm a drummer so i don't like to fuck around), did the race with it, then i was convinced: had to sell it. too small, too stiff. so i sold it to Andrew, a philly courier. it was a fast, stiff bike. lots of fun.