Corky!!!
By iron jaiden on 05/24/2009.
Bike tags: Track bike | Retard | Tackr | tarck | Track
Click to view other photos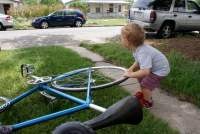 1970's Harold 'Corky' Gulbransen Track Frame

Nitto B123 / Nitto Technomic

Miche Primato tied to FIR

Miche Primato tied to FIR

Sugino RD (48t) / Shimano sealed
Who said bein a bike nerd don't get you ladies? This chick was just walkin by when I was takin pictures with my kid. She was all like "ooooooooo damn that's a sex machine there! can I sit on that? you wanna make out?" It's like that ya'll. Notice my kid's joint can do sick barspins, not possible on Corky though. I love this bike. It not only shares it's name with the illest retarded kid ever, it also rides like fuckin Thomas the Tank Engine on PCP.
Yes goddamnit I watch Thomas. Shut it I've got a kid!